Stroll ArrowCreek
Delivering neighborhood connections to your mailbox every month.
Welcome! Let's get to know our neighbors.
We know genuine connections with neighbors next door and business owners down the street make for a more meaningful experience. And we believe getting to know people in our community should be simple. That's why Stroll meets you where you're at – your mailbox.
We are grateful to serve this amazing community.
Every month, we share stories from and about different residents within our neighborhood.
See below for a few of our recent favorites.
Meet Your Publisher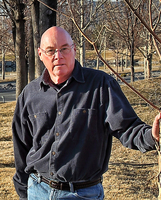 Ken Kearney
I have been producing Stoll Red Hawk for over five years and Stroll ArrowCreek for over two years. I love to connect with the residents in each neighborhood to share their stories, successes, travels, recipes, pets, and automobiles. I have traveled to over 50 countries and am amazed that the individuals and families I've met from Borneo to Pakistan, Finland to Chiapas, Mexico, share so many common values, hopes, and dreams with each of us in Northern Nevada. The publications help build a bridge between neighbors and I hope every issue brings you a moment of pleasure.
We are really happy with the advertising opportunities and community connections offered through the magazine. In support of these stats, we had five new families enroll in the Franktown Meadows riding academy in the month of January. These are high numbers that have taken us by surprise considering winter is not even close to peak riding season. All exciting stuff.

Aimee LaFayette

G.M., Franktown Meadows Equestrian Center

I am so happy for you that your magazine is doing so well. It is very obvious how much you care about people.

Carolyn Dragics

Neighborhood Resident

Just wanted to drop you a note and let you know my ad in The Arrow starting working for me from the moment the magazine hit people's mailboxes. The first month, the ad generated income four times its cost. I am gaining a foothold in the very lucrative market of Arrow Creek because of your magazine. I also appreciate your patient, personal, and professional approach. It's been a pleasure working with you.

Darrell McGowan

G.M., Nevada Home Detailing
Stay up to date on the latest by following Stroll on social media.
Interested in advertising in this magazine? Contact us today!